Have you ever wondered why your freshly cut apples turn that unappetizing shade of brown? It's not just a quirky trait of apples; there's fascinating science behind it! This natural phenomenon is a defense mechanism against bacteria and fungi, triggered by exposure to air. Let's unravel this mystery and explore some handy tips to keep your apples looking fresh and inviting.
When you slice into an apple, you're causing a bit of a cellular crisis. The damage to the cells releases certain enzymes, which, when exposed to oxygen, kick-start a chemical reaction. This process involves an enzyme known as polyphenol oxidase (PPO), which comprises two sub-enzymes: monophenol oxidase and catechol oxidase.
Here's where the magic happens: these enzymes interact with oxygen to transform phenolic compounds in the apple tissue into ortho-quinones, or o-quinones. These o-quinones are the unsung heroes, creating a natural antiseptic barrier against bacteria and fungi. While o-quinones are colorless, they don't stop there. They react further with amino acids and oxygen, producing melanin – the same pigment that gives color to our skin and hair. This melanin is responsible for the brown color you see on the cut surface of an apple.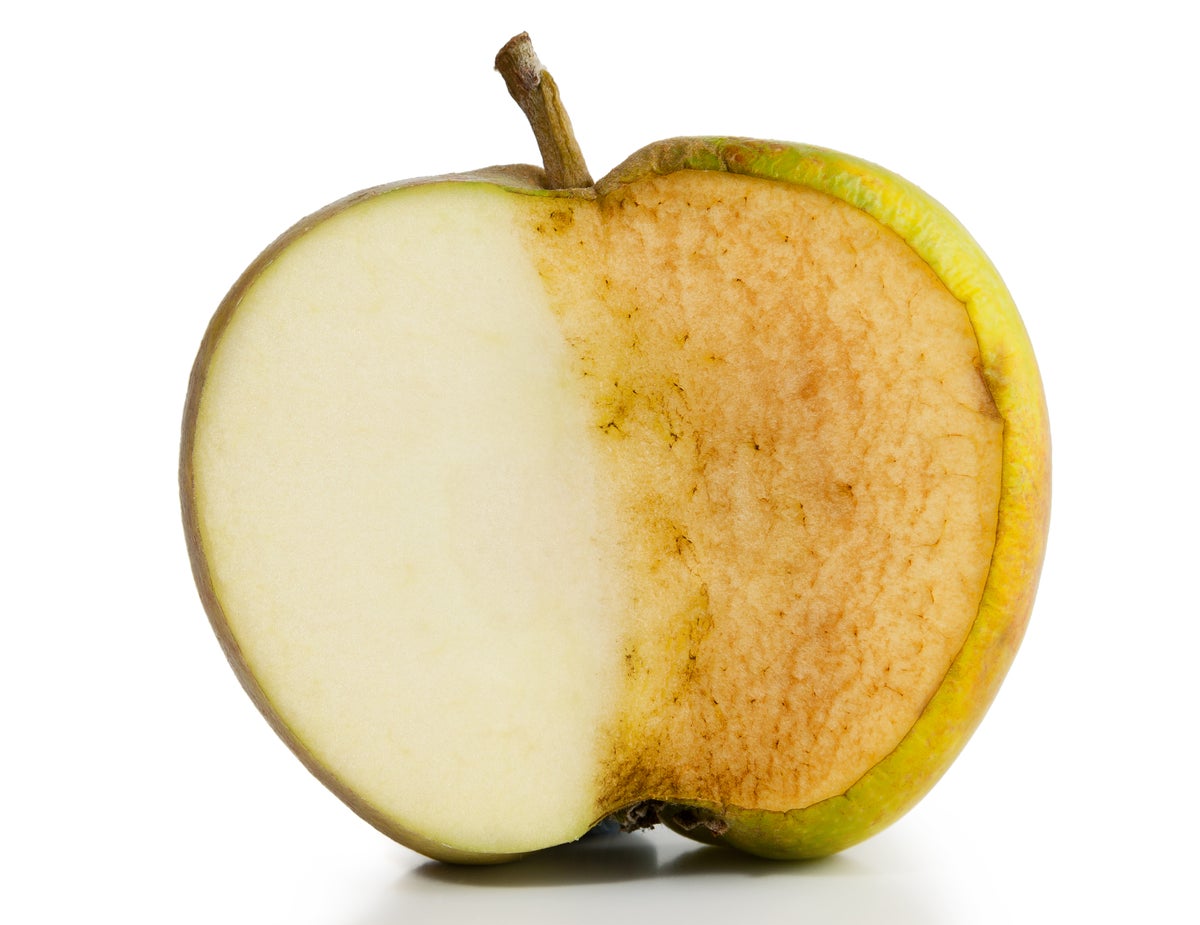 So, you've cut open an apple but aren't ready to eat it just yet. How do you keep it from going brown? Refrigeration is your friend here. Chilling the apple slows down the chemical reactions, including the oxidation process. This is a simple and effective way to preserve the appearance of your apple slices.
Alternatively, sealing the cut apple in an airtight container or submerging it in water can limit its exposure to air, slowing down the browning process. Both methods create a barrier between the apple's surface and the air, effectively putting the brakes on the oxidation reaction.
If you're not averse to a hint of citrus, spraying the exposed apple surface with pineapple or lemon juice can work wonders. The acidity of these juices denatures the browning enzymes, halting the oxidation process. This trick isn't exclusive to apples – it works just as well with avocados, potatoes, and other fruits prone to browning. If lemon isn't your thing, rubbing the apple's surface with salt, sugar, or syrup can be equally effective.
And for the bakers out there, here's a tip: briefly heating the apple to high temperatures can also prevent browning. This process, known as denaturing, involves exposing the apple slices to boiling water for a few minutes. It's a common practice in preparing apple pies and other baked treats, ensuring your apples retain their natural color.
Bonus Apple Facts
When you savor your morning coffee or enjoy a glass of apple juice, you're witnessing the same chemical reaction that turns apple slices brown. Polyphenol oxidase (PPO), the enzyme responsible for the browning of cut apples, is also at play in cocoa, tea, apple juice, and coffee. This enzyme initiates the oxidation process in these beverages and foods, leading to their characteristic brown hues. Understanding this connection can give you a deeper appreciation of the role enzymes play in the food and beverages you consume daily.
The same enzyme, polyphenol oxidase, that causes apples to turn brown is also involved in the browning of human skin. In your body, PPO plays a crucial role in producing melanin, the pigment that gives your skin its color. This process is similar to how PPO affects apples, but instead of protecting against bacteria and fungi, in humans, it's all about protecting your skin from UV radiation.
Not all apple varieties brown at the same rate. Some, like Granny Smith and Fuji, have lower levels of polyphenol oxidase, resulting in slower browning. This is why you might notice different types of apples in your fruit bowl browning at different rates.
In plants, the polyphenol oxidase enzyme plays a role in wound healing. When a plant's surface is damaged, PPO helps to create a protective barrier, similar to how it works in cut apples, but in this case, it aids in the plant's recovery.
Historically, PPO has been used in food processing for its ability to create desirable color changes in certain products, like tea and dried fruits, enhancing their visual appeal and shelf life.
Apples aren't the only fruits where PPO activity is significant. Bananas, pears, peaches, and avocados also have high levels of this enzyme, leading to similar browning reactions when they are cut or bruised.
Beyond color, the enzymatic browning process can also impact the flavor of the fruit. In some cases, the oxidation process can lead to a slightly different taste in the browned portions of the apple.
PPO isn't just about browning; in some plants, it plays a role in defense against pests and pathogens. The oxidative reactions can produce compounds that are less palatable or toxic to invaders.
The activity of polyphenol oxidase can be affected by storage conditions. Apples stored in warmer conditions tend to have higher PPO activity, leading to quicker browning once they are cut.
Advances in genetic engineering have led to the development of apple varieties with reduced PPO activity. These apples, like the non-browning Arctic apples, have been modified to slow down the browning process, extending their visual and taste appeal.
In the beverage industry, controlling PPO activity is crucial. In products like apple cider, controlling oxidation is essential for maintaining flavor and color consistency.
The browning process in fruits like apples is purely cosmetic and does not indicate spoilage or loss of nutritional value. The browned parts of the apple are just as nutritious as the rest, although some people might find the texture and flavor less appealing.
Oxidation at Work
When you slice an apple and leave it out, you'll notice it turns brown. This color change is due to an oxidation reaction. The apple's flesh contains enzymes and phenolic compounds, which, when exposed to oxygen in the air, react to form brown-colored melanin. This process is akin to rust forming on iron when exposed to air. It's a natural response of the apple to the sudden exposure to air, triggered when the protective skin is breached.
Enzymatic Browning
This phenomenon isn't unique to apples. Many fruits and vegetables undergo similar enzymatic browning when cut. The key player is the enzyme polyphenol oxidase (PPO), which reacts with phenolic compounds in the presence of oxygen. This reaction is not just a cosmetic change; in the context of food science, it can also affect flavor and nutritional content, albeit slightly.
The Role of Skin in Protecting Apples
The skin of an apple acts as a barrier, protecting the inner tissues from exposure to air. Once the skin is broken, the inner cells become exposed to oxygen, kick-starting the enzymatic reaction. This protective role of the skin is crucial in preserving the apple's freshness and preventing premature browning.
Practical Applications
Various methods can inhibit the browning process in apples. Soaking apple slices in solutions like vinegar, lemon juice, or saltwater can slow down the oxidation. These substances work by either lowering the pH, denaturing the enzymes, or acting as antioxidants. The chloride ions in saltwater, for instance, can inhibit the activity of PPO enzymes, reducing the browning effect.
The browning of an apple is a classic example of an oxidation reaction in biochemistry. When the apple cells are damaged, enzymes and phenolic compounds are exposed to air, leading to the formation of melanin. This reaction is not harmful; it's a natural chemical process similar to how other organic materials react when exposed to environmental factors.
Broader Implications in Food Science
The browning reaction in apples is more than just a kitchen annoyance; it holds significance in the food industry. Understanding and controlling enzymatic browning is crucial in food processing, affecting the shelf life and appeal of fresh produce. This reaction is a key area of study in food science, leading to innovations in food preservation and processing techniques.
Understanding why apples turn brown is more than just a quirky piece of trivia; it's a window into the fascinating world of food science. With these simple tips and tricks, you can keep your apples looking as fresh as the moment you cut them, ready to be the star of your next snack or culinary creation.