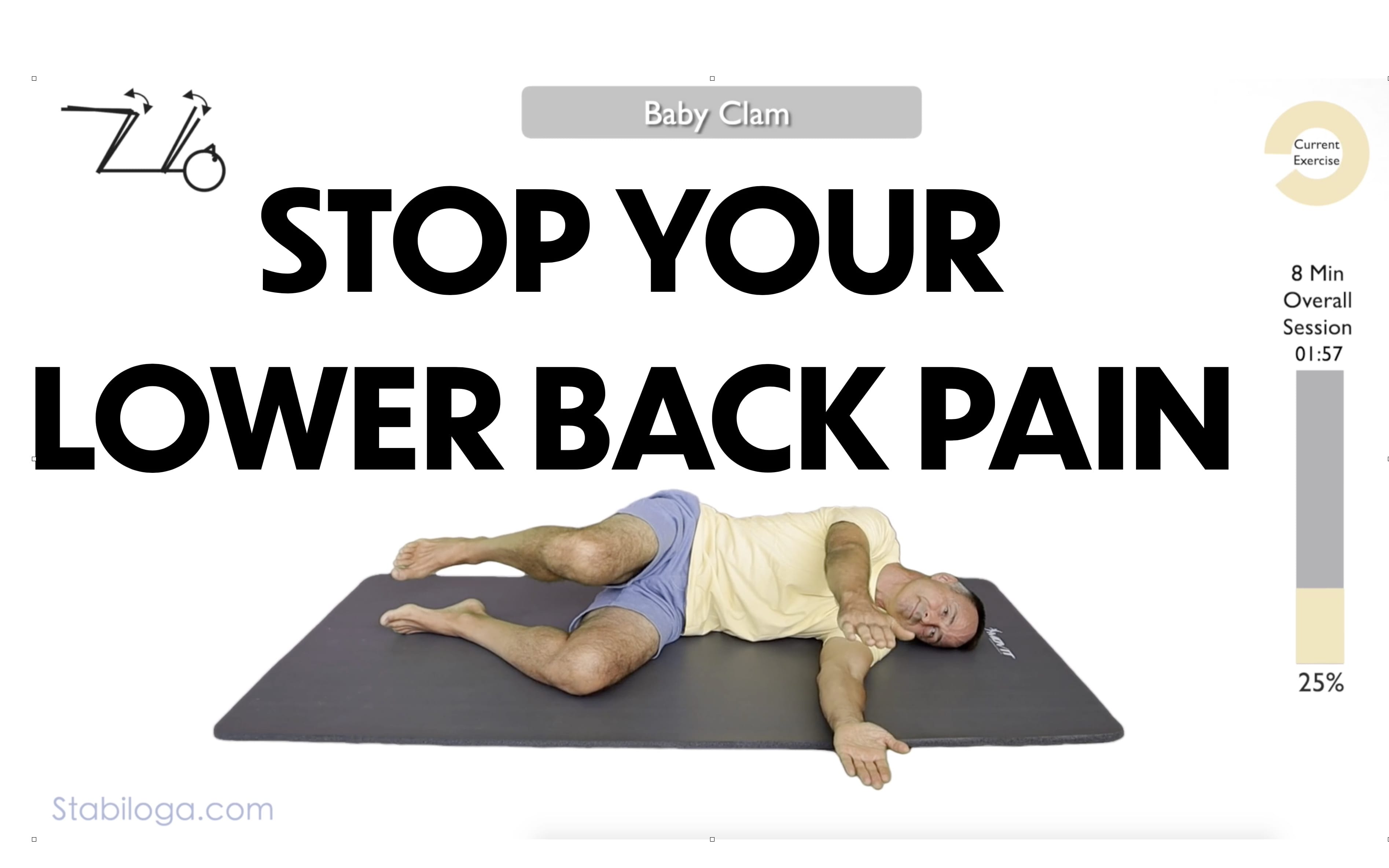 Introducing the Stabiloga Lower Back Pain Course – the ultimate solution for those battling the strains of seated jobs! Dive into a meticulously curated 90-day exercise regimen, accessible across all your devices: Smartphone, Tablet, Computer, or TV. Witness transformative results as your lower back pain begins to fade between 6 to 10 weeks, provided you adhere to the program. With just a commitment of 12 minutes daily and slightly extended sessions in the concluding weeks, embark on a journey to a pain-free life. Don't let back pain hold you back; let Stabiloga lead the way.
Your Path to a Pain-Free Life! 🌟
Are you tired of the constant nagging pain in your lower back due to seated jobs? Looking for a proven, efficient system to address and eliminate it once and for all? Look no further!
Stabiloga is not just another program; it's a transformative journey meticulously designed for individuals like you. Through a carefully curated 90-day progression of exercises, accessible on your Smartphone, Tablet, Computer, or even TV, you'll be guided step by step to reclaim your life, free from the chains of back pain.
With just 12 minutes a day, you'll witness incredible changes. And as you approach the final weeks, each session evolves to ensure that you not only get relief but that the pain stays away.
By Joining the Stabiloga Back Relief Program, You Will…
✅ Regain Your Happiness and Joy In Life – Live each day with renewed vigor and zest!
✅ Eliminate Your Back Pain – Say goodbye to those sleepless nights and agonizing workdays.
✅ Feel Much More Activated – Rekindle your passion for daily activities and hobbies.
✅ Have A Long-Term Solution – Equip yourself with tools and techniques to ensure that the pain doesn't creep back into your life.
Don't let back pain hold you back any longer. It's time to turn the page, embrace the change, and step into a world where pain is a thing of the past.
🌈 Embark on your journey to a healthier, happier back and life! 🌈
Why Stabiloga is a Game-Changer for Back Health
1. Targeted Relief for Modern Challenges: In today's digital age, prolonged seating has become the norm. Stabiloga is specifically tailored to address the unique challenges faced by those in seated professions, making it incredibly effective.
2. Empowerment Through Education: This isn't just about exercises; it's about understanding the mechanics of your body. By gaining knowledge about the root causes of your pain, you'll be better prepared to prevent future issues.
3. Flexibility and Convenience: Whether you're at home, at the office, or on the go, the Stabiloga program is accessible on multiple devices, fitting seamlessly into your lifestyle.
4. Progressive Approach: The program isn't a one-size-fits-all solution. It evolves with you, ensuring that as you progress, the exercises adapt to provide maximum benefit.
5. Time-Efficient: In the fast-paced world we live in, finding hours for self-care can be a challenge. With Stabiloga, all it takes is a mere 12 minutes a day to pave the way for a pain-free life.
6. Holistic Well-being: A pain-free back doesn't just mean the absence of discomfort; it's the doorway to a more active, joy-filled life. Imagine the activities you can enjoy and the experiences you can embrace without the shadow of back pain.
7. Commitment to Longevity: While many programs offer temporary fixes, Stabiloga's focus on ensuring the pain stays away in the long run is what sets it apart. It's a promise of not just relief but a lasting solution.
If you've been searching for a sign to take that step towards a healthier back, this is it. The Stabiloga Back Relief Program isn't just a course; it's a commitment to a better, brighter, pain-free future.
Testimonials
⭐⭐⭐⭐⭐
Thabo Mokoena:
"After just a few weeks of Stabiloga, the difference is incredible. I no longer dread long hours at my desk. This program truly understands our modern-day challenges."
⭐⭐⭐⭐⭐
Anika Pillay:
"I was skeptical at first, but the 12-minute daily routine turned my life around. I can't remember the last time I felt this good!"
⭐⭐⭐⭐⭐
Jaco van der Merwe:
"The progressive approach of Stabiloga kept me engaged. Every day felt like a new step towards a pain-free life."
⭐⭐⭐⭐
Lerato Khumalo:
"I wish I'd found Stabiloga sooner! It's so easy to follow, and the results speak for themselves."
⭐⭐⭐⭐⭐
Sunil Govender:
"This isn't just a back pain course. It's a lifestyle change. Thank you, Stabiloga, for helping me regain my active life."
⭐⭐⭐⭐⭐
Zanele Dube:
"I never thought I'd be free from my chronic back pain, but Stabiloga proved me wrong. It's been a transformative journey."
⭐⭐⭐⭐
Pieter Botha:
"Stabiloga has been a game-changer. The holistic approach not only helped my back but also improved my overall well-being."
⭐⭐⭐⭐⭐
Fatima Essa:
"I can't emphasize enough the value of this program. It's more than exercises; it's education. I now understand my body better, and that's empowering."
Discover the Transformation Awaiting You
South Africans, have you been endlessly searching for the best pain reliever for back pain? The countless hours spent trying to decipher how to get rid of back pain can finally come to an end. With the Stabiloga Back Relief Program, you're not just investing in temporary relief, but in a lasting solution.
Imagine waking up each day without that nagging ache in your lower back. Consider how much more you could accomplish, enjoy, and experience without being held back by pain. By investing just a fraction of your day, you can unlock a future where you know precisely how to relieve lower back pain and, better yet, keep it at bay.
For those who have been battling with how to relieve chronic back pain, the solution is at your fingertips. A seamless blend of expert guidance and progressive exercises ensures that you're on the path to a pain-free life.
No more need for quick fixes or temporary relief. With Stabiloga, you're choosing a brighter, pain-free future. And with today's digital payment methods, securing this transformative course is easier than ever. Whether you prefer using your credit card or PayPal, your journey to a pain-free life can begin immediately.
So, fellow South Africans, don't let another day be dominated by back pain. Embrace the solution that's already changing lives across our beautiful nation. Choose Stabiloga today.