How do you work out safely when pregnant? Helpful advice for our success is provided by specialists. The benefits of exercise are widely established, and during pregnancy, it promotes both the expecting mother's health and the healthy development of the baby, with the benefits extending to his childhood and adult life in the long run. Experts provide us with the finest advice on how to exercise properly. Next, let's discuss some guidelines for being healthy while working out during your pregnancy.
What if I Hadn't Exercised Before Becoming Pregnant?
Even if you did not consider exercise to be one of your most enjoyable routines in the past, the good news is that you can reap benefits from exercising throughout all nine months of your pregnancy. Throughout your pregnancy, the American College of Obstetricians and Gynecologists (ACOG) recommends thirty minutes of exercise at least five days a week (or a total of 150 minutes each week). Do not overlook the fact that this period also consists of the time you spend at home performing housework, cleaning, and organising.
Guidelines to Ensure a Risk-free Workout
While it is typically safe to exercise while pregnant, there are several measures you should follow to exercise safely and get started once you have the okay from your doctor to begin exercising during your pregnancy. These are the following:
New Routine? Begin on a Low Key
If you go right into strenuous exercise at the beginning of your fitness routine, there is a good chance that you will hurt your muscles and experience a great deal of pain. Instead, you should aim to begin with a light workout session lasting twenty minutes, including a warm-up and recovery period, and gradually increase the time until it lasts thirty minutes.
Favourite Habit? Do Not Overdo It
Even if physical activity is already one of your favourite habits, it is crucial to keep in mind that pregnancy already presents a great deal of stress for your body, and you should thus refrain from engaging in particularly strenuous workouts for the time being. Maintaining your current level of fitness rather than working to increase it should be your focus during this period.
Try to Stay Away From Hot Temperatures
It is recommended that during these months, you refrain from participating in activities such as saunas, steam baths, or hot tubs because anything that raises the temperature of the future mother should be avoided. If the temperature is high outside, you should exercise inside.
Pay Attention to Your Bodily Cues
Exercising regularly is essential, but you shouldn't push yourself to the point where you pass out. To accomplish this, it is essential to pay attention to your body and engage in physical activity while taking into account whether you require more rest or more activity. The effort level needs to be such that you can get a good workout while yet being able to carry on a conversation without feeling out of breath.
Your Back mustn't Touch the Floor
After the fourth month of pregnancy, you should avoid doing exercises that require you to rest on your back on the floor without moving for an extended period. The growing weight of your uterus has the potential to put pressure on your blood vessels, which can reduce circulation.
Do Not Forget to Drink Water
You should drink at least one glass of water every half an hour that you exercise, and you should drink even more water if the temperature is high or if you sweat a lot. It is best to begin drinking water approximately 30 to 45 minutes before beginning your workout, and you should continue to drink a lot of water both during and after your workout.
Snacks for Nutrition
Because exercise or high-intensity exercise that lasts longer than 45 minutes might cause low blood sugar, it is important to eat a simple protein-carbohydrate snack both before and after you exercise.
When you are working out, it is imperative that you always go at a slow pace and do not push yourself too hard. Try not to put undue pressure on yourself. Always check in with your primary care provider before beginning a new fitness regimen or activity while pregnant, even if you plan to stick with the routine you've been following. Every pregnancy is its own unique experience since every single body is distinct. It is possible for your levels of endurance and energy to change, and while it is true that exercise is always useful and excellent for you, you must modify your workout routine so that it is appropriate for your present state of health, circumstances, energy level, and mood.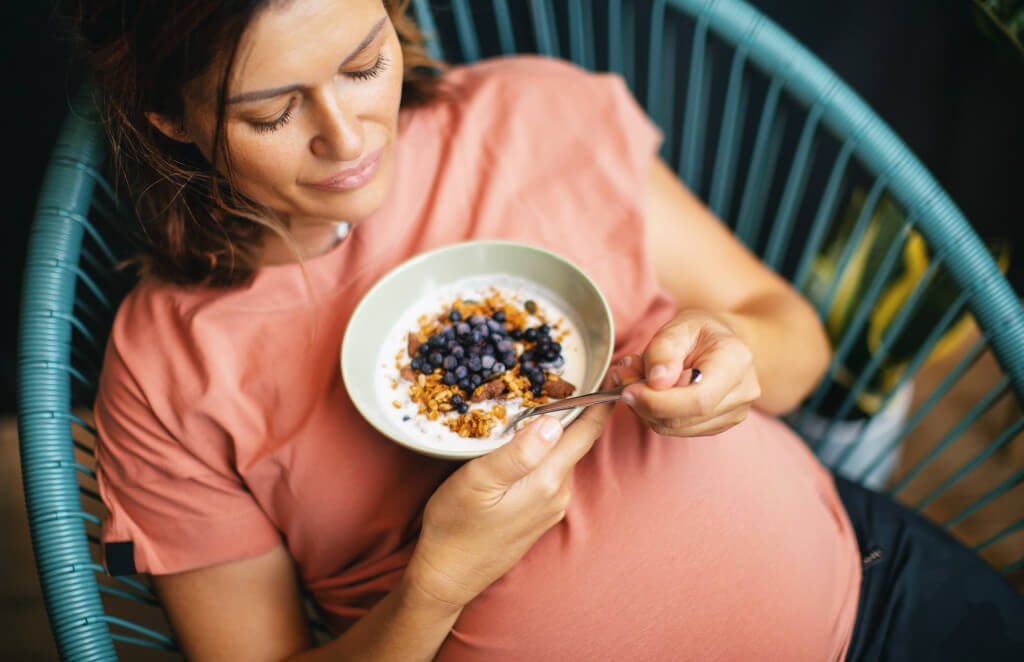 The different stages of pregnancy necessitate different kinds of physical activity on your part. Even in the initial few weeks of your pregnancy, you should discuss with your physician the types of exercises that are safe for both you and the baby, and you should also inform your fitness coach or trainer of this information.
In the first three months of pregnancy, for instance, it is not recommended that pregnant women perform a number of the yoga poses that are included in a typical yoga class. Other examples include this: Do not become overly concerned or scared to engage in physical activity; rather, employ some common sense and consult with professionals before engaging in any activity that might result in some level of discomfort.
Just How Much Exercise is Safe and Beneficial While Carrying a Child?
For a healthy pregnancy, expectant mothers need at least 2.5 hours of weekly aerobic activity at moderate intensity. Aerobic exercises raise your heart rate and cause you to breathe more rapidly and deeply. It's sweaty and your heart's racing if it's moderate intensity, so you know you're working hard. Moderate-intensity aerobic activity includes things like going for a brisk walk. You may be exerting yourself excessively if you find that you lose your ability to carry on a conversation while engaging in the activity.
All 2.5 hours need not be completed at once. In its place, you should space it out over the week. Try to exercise for at least 30 minutes every day. If 30 minutes seems like too much, try breaking it up into three 10-minute sessions throughout the day.
What Advantages Does Exercise Offer While Carrying a Child?
Maintaining a regular exercise routine during pregnancy can:
Regular exercise is a great way to boost your mood and stamina. It helps you maintain a healthy weight and strengthens your cardiovascular system, lungs, and blood vessels.
Assist you in achieving a healthy weight gain during your pregnancy
Reduce pregnancy symptoms like constipation, back pain, and leg, ankle, and foot swelling.
Facilitate better stress management and rest. When things go wrong in your life, you may experience stress in the form of worry, strain, or pressure.
Reduce your chances of developing gestational diabetes or preeclampsia during your pregnancy. Diabetic complications during pregnancy are known as gestational diabetes. Excess glucose (sugar) in the blood causes this condition. Some pregnant women develop a condition called preeclampsia, which is characterised by dangerously high blood pressure, after the 20th week of pregnancy or shortly after giving birth.
Pregnancy complications, such as premature birth, may be more likely to occur if you have one of these conditions (birth before 37 weeks of pregnancy).
You can lessen the likelihood of needing a caesarean section if you take certain precautions (also called c-section). Cesarean birth is a surgical procedure in which your baby is born through a cut that your doctor makes in your belly and uterus.
Get ready to give birth by preparing your body. Prenatal yoga, Pilates, and other calming exercises can help you practise breathing, meditation, and other calming techniques that may be useful in coping with labour pain. Regular physical activity can give you the power and stamina to get through labour.