The Role of Turmeric in Skincare
The golden-colored spice turmeric has a long history of usage in Ayurvedic and other traditional Indian medicine. Its bright color and warm, earthy flavor have made it a common ingredient in a wide variety of well-liked meals. But turmeric isn't just useful in the kitchen; it also has impressive cosmetic effects.
Turmeric is one of nature's most potent weapons in the fight against aging and skin damage, with benefits including the reduction of inflammation and dark spots, the killing of bacteria, and the stimulation of collagen formation. This article will discuss the numerous ways in which turmeric can help your skin look and feel better, as well as how to include it in your skincare routine.
Turmeric's Effects on the Skin
Hydrates Parched Skin
In the winter, dry skin is a common occurrence. It might cause your skin to look dry and lifeless. Turmeric, though, can help alleviate the discomfort. Turmeric masks and packs, both commercial and homemade, are excellent moisturizers for the skin. It helps new skin cells regenerate by speeding up the process of eliminating dead skin cells.
Removes Bags Under Eyes
Under-eye circles can be caused by several skin issues, such as dehydration, a lack of collagen formation, increased pigmentation, or toxin buildup. Turmeric, when used topically, is useful against all of these conditions. Inflammation, another potential source of under-eye darkness, is also mitigated by this.
Due to its antioxidant characteristics and capacity to combat multiple sources of discoloration, turmeric is an excellent ingredient to incorporate into your skincare routine if you suffer from dark circles. Existing dark circles may also be lightened by turmeric, however, this process may take longer. Turmeric paste applied to the skin and kept on for 20 minutes is as good at reducing dark circles as it is at preventing them from appearing in the first place.
Removes Dark Marks and Scars
Having hyperpigmentation and/or acne scars is a problem for a lot of people. Fortunately, research has shown that turmeric is an effective therapy for both conditions. Multiple studies have shown that turmeric has the potential to reduce the appearance of hyperpigmentation, including that caused by acne scars, red markings, and other types of scarring. Hydroquinone is a regularly recommended skin-lightening treatment, however, one study revealed that a lotion containing turmeric was just as effective! Turmeric, when administered topically, helps lessen the appearance of scars and prevent new ones from forming. It may take several weeks of consistent use before you notice a difference, so please be patient. For the best results, apply turmeric all over the affected area and choose an organic, high-quality product.
Effectively Manages Acne
Acne lesions are caused by the bacterium Cutibacterium acnes. Acne of this kind can be helped by using turmeric. Curcumin, the main ingredient in turmeric, has been shown to have powerful antioxidant effects that can help treat acne vulgaris, according to a study published in PharmaTutor. Turmeric's anti-inflammatory properties help reduce skin irritation, which promotes skin healing.
Delays the Onset of Ageing
Despite widespread belief to the contrary, turmeric's anti-inflammatory and anti-aging characteristics make it an effective weapon in the fight against wrinkles, crow's feet, and other telltale indications of premature aging. Anti-aging pros can benefit greatly from its capacity to reduce inflammation and boost collagen formation. Brown patches and other forms of hyperpigmentation frequently linked with aging can be avoided with its help, too, according to studies. Combining turmeric with vitamin C and/or aloe vera can increase its anti-aging effects. Aloe vera's calming, anti-inflammatory effects and vitamin C's role in collagen formation make it a promising treatment for fine lines and wrinkles.
It Lessens the Appearance of Stretch Marks
Stretch marks form when the skin's elasticity rapidly expands, as it does during pregnancy or rapid weight gain. Even while they can't be avoided totally, there are steps you may take to lessen their appearance and gain confidence. Turmeric, when applied topically, can greatly lessen the visibility of stretch marks, both old and new.
For the best effects, use a high-quality, organic product and make sure to apply it to the entire affected region. Combining turmeric with vitamin E amplifies its positive effects. Vitamin E aids in collagen synthesis, which in turn lessens the appearance of stretch marks. To get the most out of turmeric's anti-aging and anti-inflammatory benefits, it's important to choose a high-quality, organic product.
 Gives You a Healthy Glow
It is widely believed that turmeric is an effective substance for brightening the skin and bringing out its natural radiance. It is an effective antioxidant that helps lessen the appearance of hyperpigmentation, pimples, and dark spots. Turmeric, also known as haldi, is a common ingredient in many Hindu wedding traditions. On your wedding day, this will give your skin a healthy sheen. Turmeric's anti-inflammatory and antioxidant effects make your skin seem radiant and revitalized.
Protects Against Severe Skin Disorders
Acne, psoriasis, eczema, and rosacea are just some of the many skin problems and disorders that turmeric has been shown to effectively cure. Additionally, it can aid in the treatment and prevention of healthcare-associated infections, such as the potentially fatal and highly contagious MRSA. Many of these diseases and illnesses can be warded off by using a topical application of turmeric. For the best effects, use a high-quality, organic product and make sure to apply it to the entire affected region.
Turmeric Skin Care: Frequently Asked Questions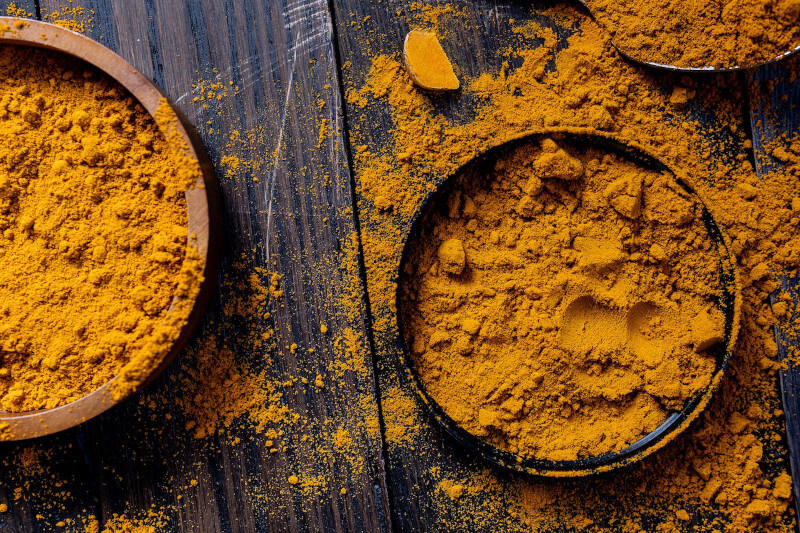 First of All, is It Safe to Use Turmeric on Your Face Daily?
Do a patch test on your arm to see whether turmeric bothers your skin before putting it on your face. Hold off for at least two days. In the absence of an allergy, twice or thrice weekly turmeric consumption is quite safe. You can use turmeric on its own, but it will discolor your skin and hair. Therefore, other natural substances are recommended. You can apply a face mask with turmeric in it twice or three times per week.
Who Can Benefit from Using Turmeric?
Except for those with a known allergy, turmeric can be used by anyone. As a natural substance, turmeric has no significant negative effects on the skin. Applying raw turmeric to the skin will cause yellow discoloration. Inquire with your physician before consuming turmeric if you are currently taking any kind of strong medicine.
When Should I Wash Off My Turmeric Face Mask?
Masks and face packs containing turmeric should be removed after no more than 15 minutes. Long-term turmeric application can cause skin dryness and tightness. Unless you're using an essential oil, you shouldn't keep turmeric on your face overnight.
What Is the Recommended Daily Dose of Turmeric?
According to the research, the recommended daily intake of turmeric is between 500 and 2000 milligrams. Approximately 60–100 mg of curcumin can be found in the usual Indian diet of 2,000–2,500 milligrams of turmeric per day. [9]
Does Turmeric Reduce Dark Spots?
Yes. Skin discoloration can be reduced by using turmeric. The curcumin in it inhibits the overproduction of melanin, which in turn makes your skin lighter. If you have dark spots or hyperpigmentation on your skin, adding turmeric to your skincare routine can help lighten them.
If I Use Turmeric on My Skin, How Long Before I See Results?
The use of turmeric can give your skin a healthy glow right away. However, you may need to use it for longer than three to four weeks to see a noticeable difference in your skin's tone.
Tumeric Is the Best Natural Alternative
Traditional Indian herbal medicine has used turmeric for centuries. There is scientific evidence that it improves skin health, and it is still utilized in many contemporary Ayurvedic treatments. It works wonders on acne, lightens scars, and holds off the aging process. It may also aid in the battle against life-threatening skin infections like MRSA. Combining turmeric with vitamin C and/or aloe vera will increase its efficacy as a skincare ingredient.
Like this article? We offer quality content guest post services on Fiverr for organic skincare brands in South Africa.
Written By Danielle ( Our Resident Natural Guide )